Muy interesante. After what seemed like an epic fail with the Margiela line, maybe H&M is banking on Beyonce having a golden touch (kind of like how the Great Gatsby movie folks are banking on her husband to endure success). Well…only time will tell.
Style News - StyleWatch - People.com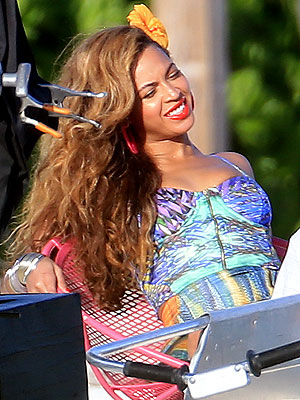 ASNY/SDFL/Splash News Online
If the rumors on Twitter are true, Queen Bey can add yet another line to her already very long and impressive résumé: star of an H&M campaign.
People have been abuzz ever since images of Beyoncé on the set of what appears to be a photo shoot in the Bahamas emerged early Thursday morning.
In the snaps, the superstar is seen sitting in a pink beach chair wearing a tropical-print bustier, a yellow flower in her hair and a red lip (left) — and fans are convinced it's for an upcoming H&M ad.
Here's why: Reportedly, one of Beyoncé's dancers Tweeted: "First day of trial in the Bahamas! H&M all set … go," E! Online's Latin America outlet shares. (The Tweet has since been deleted.)
PEOPLE reached out to H&M for comment, but a representative for the brand would neither confirm nor deny anything.
We're crossing…
View original post 93 more words