Tamara:
Always ground breaking….Vogue Italia
Originally posted on Style News - StyleWatch - People.com: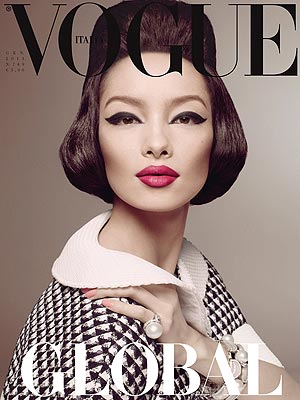 Courtesy Vogue Italia
Vogue Italia, the magazine known for taking a stand against anorexia and promoting the use of black models in fashion, made another statement this week, putting an Asian woman on its cover for the first time.
Chinese model Fei Fei Sun covers the magazine's January issue (out worldwide Monday), a celebration of the multicultural, border-free facets of fashion. Editor in chief Franca Sozzani, who works as a Goodwill Ambassador of the United Nations' Fashion 4 Development Project, chose Sun for the honor.
"In the images, Fei Fei perfectly embodies a timeless idea of an extremely chic, beautiful woman," Sozzani tells WWD. "In this world, beauty is king and it's something that brings people together with no national and racial limits."
Sun has previously modeled in campaigns for brands like Calvin Klein and Diesel, and first hit the runway at London Fashion Week in 2009…
View original 88 more words