Though she is a size 10, it's still a step in the right direction of showcasing models that look like the consumer. I have to admit that I was a little shocked to see Ralph Lauren using a "plus size" model after that fiasco a few years back with the over-photoshopping of the model in one of their ads (which they subsequently used despite how the touch up work made the model look like an alien). Congrats to the model and to the fashion industry for recognizing her!
Style News - StyleWatch - People.com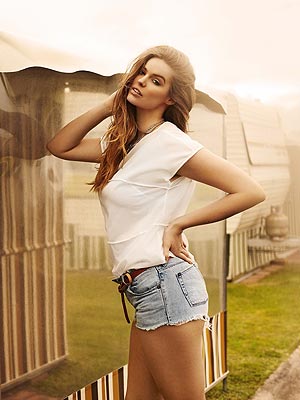 Courtesy Wilhelmina Models
Aussie Robyn Lawley has a lingerie campaign, covered Vogue Italia last year and is one of the newest faces of Ralph Lauren. She also happens to be a size 10 (update: actually a 12/14 in the U.S.), considered a plus size in today's fashion world.
"I had to go through my own self-love, self-hate to get to where I am," the 23-year-old tells PEOPLE. "It took me years to watch other plus-size models be so confident with themselves. But then I realized that I could use my voice to be a positive role model for girls. When I found plus-size modeling, it was such a relief to be just me."
At age 16, Lawley entered a modeling competition, eventually signing with an agency at 19. Now, she's a Wilhelmina model, traveling the globe to shoot ads with some of fashion's biggest names.
"It feels really…
View original post 381 more words